KINGOFFAKES.TO REVIEWS
The online fake id industry is full of sophisticated scam networks. During our research, we came across several websites which we suspected of being owned by one single person. Our suspicions often turned to be true, and that is the case when it comes to the website KingOfFakes.to, held by a Russian known to be running a professional scam service.
When you analyze their set up, you will find facts that are interesting because we hardly see people working so hard to rip people, and often fraudulent websites are careless when it comes to skills, but that is not the case with this company.
How does it start?
A couple of years ago this website with the name KingOfFakes.com started at the initial stage they only restricted themselves to the Reddit's Scannable fake id review page /r/fakeid, and at that particular time, they only offered three states.
One of our members by the username Broady on Reddit approached them for purchase and got scammed, but a few other members still had some good reviews about this vendor and posted the photos of the false IDs they allegedly received from them.
Anyhow, they got banned from the channel, and after a few months, the subreddit /r/fakeid got suspended because of Reddit's policy. A few dumb ass vendors would make direct sales and make discussions related to transactions in there. After that, this website changed its domain extension from '.COM' to an offshore '.TO' and along with that they started a new trick.
King OF Fakes is your white collar crime network in a fake identification industry with a hardworking and skilled scammer. Their system and methodology convince you as a customer to read reviews which are self-posted and hence draws you to let them steal your money.

FAKEIDBOSS.net – BRAD
To build trust and gain exposure in the market, this Russian scammer opened a subreddit by the name /r/FakeIDTalk and introduced a new method to gain positive reviews on Google search engine. They posted fake positive reviews on that channel and then immediately locked the posts so that real customers cannot post their complaints and hence they can only read what the user displayed in the review.
So if you are a customer and you see KingOffakes.to in the search engine results of Google for fake ids, you would do research such as King OF Fakes reviews, and on search engines, you will see Reddit's posts that the owner of this website has self-posted. That is precisely how many users have fallen trap to this vendor and became their victims.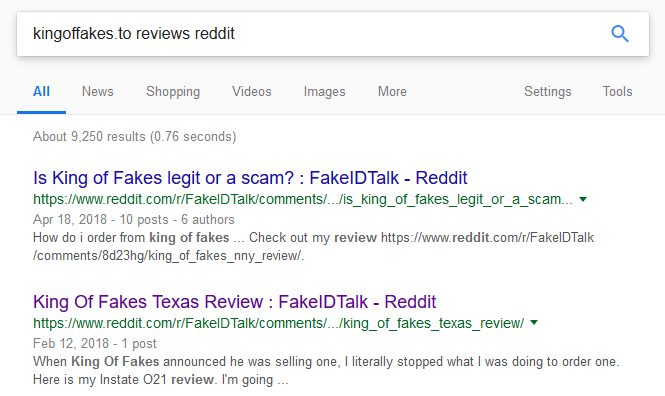 From what we have gathered the channel /r/FakeIDTalk is now banned but we do know that some moderators of Reddit are corrupt and they knew about this and allowed it for quite some time. They still allow channels such as /r/fakeidsuperlist which unfairly promotes certain forgeries websites.
The process of ordering fake ids using this website
Our team member personally tested and verified the status of this website. He ordered an Indiana state fake id from them and explained the buying process below.
The website uses a traditional Woocommerce cart system personalized for Bitcoin and WesternUnion. It is fast and fluent but lacks instructions list.
The images of their fake id states are altered and only templates. The company lacks posing photos of their forged ids under ultraviolet light.
You can not find a single image sample with a hologram or real printed card with their company's name they just posted photoshopped images of their templates.
The pricing seemed fair, and by selecting Indiana, you can complete the order form, but there are no options to choose personalized license number or date of birth.
The confirmation of your order does not include any invoice number but does explain how they will send you a shipment tracking number depends on your shipping type.
They offer standard and rush service for additional costs which sounds good, but it is only an attempt to rip people that want an urgent ID for more money.
Once you submit the form, you will get an automated confirmation message to your E-mail. Since these guys mostly host on offshore locations, they use blacklisted servers, and their mail(s) usually go to spam folders whether you are using Gmail or Hotmail.
FAKEIDBOSS RANK METER
Please view our Ranking parameters for this vendor before you decide to purchase an id from them.
Holograms: 0
UV: 0
Pricing: 0
Template: 0
Variety: 0
Stealth: 0
Shipping: 0
Overall Ranking: 0
Category: SCAM
Conclusion
Once your order gets processed, they will send you an invoice with a Western Union name and country which for most users like us will be Ukraine. Please note that any forgeries maker which uses UKRAINE as a pickup country for their payments is most likely a fraudulent business. It is a country which is known to have many drops for white collar crimes.
After a week of no response, we opened a ticket with them using their website and to which we received no reply. There was no sign of a tracking number or delivery to our member Brad, and hence we practically got scammed by the vendor.
Some other essential links exposing their scam network